Learning Through Play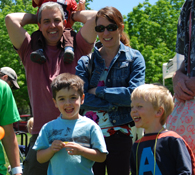 At Platt Park Children's Center, we believe that young children learn and grow best when they are in a play-based environment, where activities are developmentally appropriate, and driven by the children's interests and needs. PPCC provides a wide range of experiences for children, both indoors and out. Each day children spend time outdoors exercising, playing, and learning how to get along with one another, while "Creative Curriculum" and "ZooPhonics" engage children in meaningful experiences indoors.
---
Registration
2018/2019 Online Registration coming soon.  Click here for more information. For current year registration, please contact the preschool.